The top half of this page also available in Italian, Hebrew, Portuguese, Spanish.
We are proud of our certified and credentialed coaches. In all communications and behaviors you can expect SUN Trainers to be committed to and adhere to ethical coaching standards of the International Coaching Federation (ICF) <coachfederation.org> and ethical coach training standards of the Association of Coach Training Organizations (ACTO) <actoonline.org>.
Find out more about SUN Trainers in Coaching Leadership Roles providing leadership for the evolution of the coaching profession.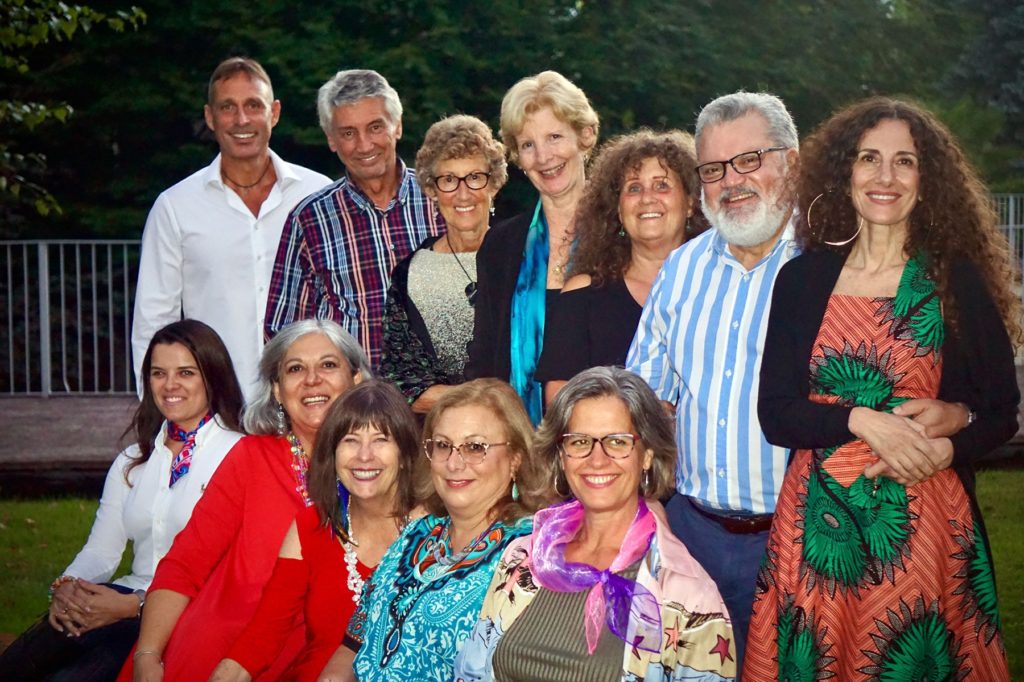 Our Trainers, Master Coach Trainers, Coach Trainers and Associate Coach Trainers (ACT) deliver top quality customized coach training programs, accredited coaching certifications, continuing education, coach mentoring and coaching. Each, in his/her own way, provides leadership for the evolution of the coaching profession.
All SUN Trainers have at least a PCC credential (Professional Certified Coach) and almost all have an MCC (Master Certified Coach) – internationally recognized credentials. All SUN Coach Master Trainers have an MCC.
We offer training in 5 languages on 5 continents and offer options to train in person, by phone and distance learning.
Philosophy
Train, mentor and formally assess students using a coaching approach.
Maintain an active coaching business.
Have a strong commitment to continual self-improvement and the evolution of the coaching profession.
Abide by the ethics and standards of the profession (see below for ACTO Code of Trainer Ethics).
Appreciate feedback and provide evaluation mechanisms for assessment purposes.
Value being of service.
Train from a holistic perspective, coaching from and for essence, with spiritual awareness.
Training can be delivered in these languages by these trainers
Alfonso Medina, MCC Spanish, English, Italian  
Teri-E Belf, MCC English
Kathy Harman, MCC English  
Angela Gaeghtgens, PCC Portuguese, English
Dalia Nakar, MCC Hebrew, English 
Diane Ingram MCC English
Cristina Campofreddo, PCC Italian, English
Virginia Velez, PCC Spanish, English
Jerry Spoto, PCC Italian, English,  Spanish                   
Adrienne Fikes, PCC English
Theodora Fitzsimmons, PCC, English, Greek
Rafael Rivera, PCC English, Spanish 
Johana Alvarado, PCC Spanish
* * * * *   Notes * * * * *
1.  Master SUN Coach Trainer Vicki Escudé, MCC, still offering selected classes for SUN
2. Meg Mann, MCC is supporting the SUN Portuguese community
3. John Collings, MCC: Emeritus SUN Coach Trainer after 24 years in coaching and coach training, John at 92 still inspires us with his coaching wisdom and coaches in his retirement home.
***SUN Trainers have produced and published a number of materials, services and courses offered in addition to the Coach Training. These materials are not required for SUN certification and purchase is optional. They are offered as additional resources that may be of value to a SUN coach. These are also sold to other coaches and other professionals.***
================================================================  ACTO CODE OF ETHICS FOR TRAINERS    Rev: 5/18

ALL SUN Trainers honor and abide by the ACTO Code of Ethics!
INTRODUCTION AND OVERVIEW
The Association of Coach Training Organizations (ACTO) is a professional organization composed of coach training schools and organizations, faculty and staff, and individuals dedicated to promoting excellence in coach education. ACTO is dedicated to fair and equitable treatment to all people. The ICF Code of Ethics and the Global Code of Ethics were used as a basis for this Code of Ethics.
ACTO CORE VALUES
Integrity – Consistency of actions upholding honesty, and truthfulness.
Fairness – Equitable and just treatment and behavior ensuring equivalence for all.
Accountability – Taking ownership and accepting full responsibility with transparency and openness.
Ethical Behavior – Demonstrating respect for such moral principles as honesty, fairness, equality, dignity, diversity and individual rights
I. Definitions    
Agent (of a training organization) – Any person who is faculty, administrative support, supervisor, mentor, owner, contractor or employee working at a coach training organization.
Anonymity – The condition of not being identified by name or identifiable features or characteristics.
Coach Mentor – An experienced, credentialed coach who provides professional assistance in achieving and demonstrating the levels of coaching competency demanded by the ICF Credential level sought by the coach-applicant and those seeking credential renewal.
Coaching Supervision –  is a collaborative learning practice to continually build the capacity of the coach through reflective dialogue for the benefit of both coaches and clients. It focuses on the development of the coach's capacity through offering a richer and broader opportunity for support and development. Coaching Supervision creates a safe environment for the coach to share their successes and failures in becoming masterful in the way they work with their clients.
Coach Trainer and/or Educator – A specialist in coaching theory, principles, and practice who teaches and prepares students for a coaching career or adding coaching competencies to another career.
Coach Training Administrator – The person responsible for operation of a coach training organization.
Coaching Student – A person who is committed to formally studying and learning the art and science of coaching.
Confidentiality – Coaching information and discussion, including identity, is to be kept secret and/or private unless permission received from the person.
Faculty – The teaching or training staff who may also be mentors and supervisors and/or assessors for a coach training organization.
Sponsor – An entity (including its representatives) paying for and/or arranging for coaching education or services to be provided.
Stakeholder – Person who has an interest or investment in coach training or education.
Staff – All administrative and support personnel employed or contracted by a coach training organization
II.    ACTO Standards of ethical conduct
Section A. Professional Conduct at Large
As a member of ACTO, I:
Act in accordance with the ACTO Code of Ethics in all interactions, including coach training, coach training administration, coaching, coaching appraisals, coach mentoring and coach supervisory activities.
Recognize and abide by the applicable laws and regulations of each country, municipality and local governing body.
Uphold the ethical standards of ACTO and the coaching profession in a manner that reflects positively on the profession of coach training.
Behave in alignment with ACTO values.
Embrace diversity and inclusion by respecting the unique and intrinsic worth of our global students, staff, trainers, administrators, sponsors and stakeholders.
Provide a safe and supportive atmosphere for students, coaches and coaches-in-training to learn, excel ethically and strive to become professional coaches of the highest caliber.
Show respect for the thoughts, ideas and opinions of others and strive to be objective when sharing feedback.
Uphold equitable practices in all professional activities for all individuals, including but not limited to; age, race, gender orientation, ethnicity, sexual orientation, religion, politics, veteran status, national origin, and disability.
Inform members of the organization of their responsibilities established by this Code.
Agree that use of ACTO member information for mass emailing or spam is prohibited. .
Treat people with dignity, respect, and compassion to foster a trusting work environment.
Take the appropriate action with students, coaches, coach trainers, coach mentors and supervisors and/or contact ACTO to address or inquire about any ethics violation or possible breach of ethics as soon as I become aware.

Review ethical concern with Coach Mentor, Coach Supervisor or Ethics Specialist to discern possible next steps
Contact ACTO if appropriate
Contact ACTO to file a complaint
Recognize, honor and respect all member coach training schools and educational organizations.
Offer best practices to promote continuous professional development of coach education and training.
Obtain written permission, including full attribution for any and all intellectual property that is used from other schools, trainers & others. Any violations are also a legal matter and ACTO will uphold the actions of a court.
Make verbal and written statements that are true and accurate about what is offered or can be expected from our coach training organizations and as a coach trainer.
Accurately identify coaching qualifications, expertise, experience, training, certifications, ICF credentials and accreditations.
Recognize any personal challenges that may impair, conflict with or interfere with my professional performance. I will promptly seek relevant professional assistance and take appropriate action, which could include a leave of absence or termination.
Notice if I become aware of inappropriate behavior of another agent, I report it to the Coach Training Administrator. If Coach Training Administrator is involved or fails to take action, I report it directly to ACTO.
Present clear and transparent written contracts to prospective students, faculty members and/or staff before they begin an assignment, including the ACTO Code of Ethics and any additional Ethical Code of the organization.
Develop, administer, and advocate policies and procedures that foster fair, consistent, and equitable treatment for all.
Support decisions made by our organization that are both ethical and legal, regardless of personal interests.
Section B. Professional Conduct with Students and Clients  
As a member of ACTO, I:
Show respect for the opinions of others in the exchange of feedback and ideas.
Commit to an environment in which all individuals are treated with respect and dignity. Each individual has the right to a professional atmosphere that promotes equal opportunities and prohibits unlawful discriminatory practices, including harassment.
Understand that all relationships among coaches, trainers, student, clients, agents and others associated with ACTO will be business-like and free of bias, prejudice and harassment.
Section C. Confidentiality/Privacy
As a member of ACTO, I:
Have clear agreements between the coach training organization and students as to when to break confidentiality such as:

Illegal activity
Pursuant to valid court order or subpoena or as required by law
Imminent or likely risk of danger to self or others
Ensure anonymity when sharing real examples in training.
Maintain, store, and dispose of any records, including electronic files and communications, in a manner that promotes confidentiality, security, and privacy and complies with any applicable laws and agreements.
Maintain the confidentiality of students' records beyond the conclusion of each student's coach education in accordance with local laws, releasing the information only with a student's written permission or as required by law. Exceptions: Records of completion of individual courses for verification purposes by professional organizations. Programs, and certifications are considered public so they may be shared with those seeking verification.
Maintain the anonymity of students' personal information that may be revealed outside of student records, including but not limited to conversations with an instructor, supervisor, or mentor, participation in classroom discussions or group supervision or mentoring, or participation as client or coach in a coaching demonstration, role play, or practice session.
Have a clear agreement about what student information and recordings will be transferred and/or released.
Section D. Conflicts of Interest
As a member of ACTO, I:
Openly disclose any conflicts, and offer to recuse myself when I become aware of a conflict or potential conflict of interest.
Demonstrate transparency and disclose all potential and actual conflicts of interest when decisions involving my organization or me arise.
Disclose payment for referrals to all parties involved or impacted.
Provide consistent and equitable services when teaching, mentoring, coaching, or supervising regardless of the form or amount of compensation or purchase of additional services.
Adhere to and advocate the use of written policies on conflicts of interest within my organization.
Maintain the integrity of my position in terms of personal, material, or financial gain, and ensure a positive and honorable appearance prevails.
Strive to evaluate to the best of my ability, free of any positive or negative bias, students' performance that would knowingly impact their ability to earn their own results.
Section E. Continuing Development
As a member of ACTO, I
Teach Coaching and Coaching Ethics in a manner that provides information for students to be aware of and know how to address ethical challenges.
Commit to life-long learning and ethics as a coach and a coach trainer
================================================================
in Portuguese
ACTO CÓDIGO DE ÉTICA PARA FORMADORES    Rev: 5/18
Todos os formadores SUN honram e comportam-se de acordo com o Código de Ética ACTO!
INTRODUÇÃO E OVERVIEW
A Association of Coach Training Organizations (ACTO) é uma organização profissional composta por escolas de formação em coaching e organizações, corpo docente e equipa, e indivíduos dedicados à promoção da excelência na formação em coaching. A ACTO empenha-se no tratamento imparcial e justo a todas as pessoas. O Código de Ética da ICF e o Global Code of Ethics foram usados como base para este Código de Ética.
VALORES FUNDAMENTAIS DA ACTO
Integridade – Consistência das ações salvaguardando a honestidade e a verdade.
Justiça – Tratamento igual e justo e um comportamento que assegure imparcialidade para todos.
Responsabilidade – Assumir e aceitar a total responsabilidade com transparência e abertura.
Comportamento ético – Demonstrar respeito pelos princípios éticos como a honestidade, justiça, igualdade, dignidade, diversidade e direitos individuais.
Definições    
Agente (de uma empresa de formação) – Qualquer pessoa do corpo docente, do suporte administrativo, supervisor, mentor, proprietário, contratado ou empregado a trabalhar numa empresa de formação.
Anonimato – A condição de não ser identificado pelo nome ou por atributos particulares ou características identificáveis.
Mentor de Coaching – Coach com experiência, credenciado, que assegura apoio profissional no desenvolvimento e demonstração dos níveis de competências de coaching exigidos pela ICF para o nível de credencial requerido pelo candidato a coach e por aqueles que desejem a renovação da sua credencial.
Coach Supervisor – Coach experiente que serve como inspiração e se envolve num diálogo de reflexão e aprendizagem colaborativa para o desenvolvimento pessoal e profissional de coaches.
Formador de Coaching – Um especialista na teoria do coaching, princípios e prática que ensina e prepara alunos para uma carreira no coaching ou para aplicar competências de coaching noutra carreira.
Gestor da Organização de Formação em coaching – A pessoa responsável pela gestão da operação de uma organização de formação em coaching.
Aluno de Coaching – A pessoa comprometida com o estudo formal e a aprendizagem da ciência e arte do coaching.
Confidencialidade – Informação de Coaching e conteúdo do diálogo, incluindo identidade, é para manter em segredo e/ou privada, a menos que seja dada permissão pela outra pessoa.
Corpo de formação (Faculty) – A equipa de formação que pode também incluir mentores e supervisores e/ou assessores de uma organização de formação em coaching.
Patrocinador (Sponsor) – Uma entidade (incluindo os seus representantes) que paga e/ou organiza a formação em coaching ou os serviços a ser prestados. .
Stakeholder – Pessoa que tem um interesse ou um investimento na formação em coaching ou na sua aprendizagem.
Pessoal – Todas as pessoas com funções administrativas e de suporte a colaborar ou contratadas por uma empresa de formação em coaching.
ACTO Standards de conduta ética
Secção A. Conduta profissional em geral
Como membro da ACTO, Eu:
Atuo de acordo com o Código de Ética da ACTO em todas as interações, incluindo na formação em coaching, na gestão da formação em coaching, no coaching, nas avaliações do coaching, no mentoring e nas atividades de supervisão de coaching.
Reconheço e respeito a legislação e regulação aplicável a cada país, município e poder governativo local.
Promovo os standards éticos da ACTO e da profissão de coaching, de modo a que tenham um reflexo positivo na profissão de formação em coaching.
Comporto-me em concordância com os valores da ACTO.
Promovo a diversidade e a inclusão respeitando as especificidades e valor intrínseco dos alunos, pessoal, formadores, gestores, patrocinadores e partes interessadas (stakeholders).
Promovo um ambiente seguro e de apoio aos alunos, coaches e coaches em formação, com elevados padrões de ética e esforço-me para que se tornem coaches profissionais do mais elevado calibre.
Respeito os pensamentos, ideias e opiniões dos outros e esforço-me por ser objetivo quando partilho feedback.
Promovo práticas imparciais em todas as atividades profissionais para todos os indivíduos, incluindo e não limitado a: idade, etnia, orientação sexual, religião, política, veteranos, nacionalidade e incapacidade.
Informo os membros da organização das suas responsabilidades estabelecidas por este código.
Concordo que é proibido o uso da informação dos membros da ACTO para mailings generalizados ou spam.
Trato as pessoas com dignidade, respeito e compaixão para promover um ambiente de trabalho de confiança.
Tomo as diligências necessárias perante alunos, coaches, formadores de coaching e supervisores e/ou contacto a ACTO quando tomo conhecimento de alguma possível violação do código de ética.
Revejo a questão do ponto de vista ético com um Mentor ou Supervisor de coaching ou com um especialista em ética para aferir os próximos passos
Contacto a ACTO, se apropriado
Contacto a ACTO para efetuar uma queixa
Reconheço, honro e respeito todas as escolas de formação de coaching e as organizações educacionais membros.
Utilizo as melhores práticas para promover o desenvolvimento profissional sustentado da formação em coaching.
Obtenho autorização por escrito, incluindo a atribuição total por qualquer e toda a propriedade intelectual que seja utilizada de outras escolas, formadores e outros. Quaisquer violações são legalmente puníveis e a ACTO irá interpor ação em tribunal.
Na qualidade de formadora de coaching, efetuo declarações verbalmente e por escrito que são verdadeiras e precisas sobre o que é oferecido ou pode ser esperado das nossas organizações de formação em coaching.
Especifico com precisão as qualificações de coaching, proficiência, experiência, formação, certificações, credenciais ICF e acreditações.
Assumo quaisquer temas pessoais que possam prejudicar, entrar em conflito ou interferir com a qualidade do meu trabalho. Vou procurar rapidamente o apoio profissional indicado e tomar as ações necessárias que incluem baixa ou saída.
Se tomar conhecimento de um comportamento inadequado por parte de outro agente, vou reportá-lo ao Gestor da Escola de Formação em Coaching. Se o Gestor estiver envolvido ou não tome as devidas diligências, reporto diretamente à ACTO.
Apresento contratos escritos, claros e transparentes a futuros formandos, a membros do corpo de formação e/ou do pessoal antes de iniciarem as suas funções, incluindo o código de ética da ACTO e qualquer código de ética adicional da organização.
Desenvolvo, administro e advogo políticas e procedimentos que promovam um tratamento justo, consistente e igual para todos.
Apoio as decisões tomadas pela nossa organização que sejam éticas e legais, independentemente de interesses pessoais.
Secção B. Conduta Profissional com Formandos e Clientes  
Como membro da ACTO, Eu:
Respeito as opiniões dos outros na troca de ideias e feedback.
Comprometo-me com um ambiente em que todos os indivíduos sejam tratados com respeito e dignidade. Cada indivíduo tem direito a uma envolvente profissional que promova oportunidades iguais e proíba práticas ilegais, incluindo assédio.
Understand that all relationships among coaches, trainers, student, clients, agents and others associated with ACTO will be business-like and free of bias, prejudice and harassment.
Entendo que todas as relações entre coaches, formadores, alunos, clientes, agentes e outros associados com a ACTO, são relações de caráter profissional sem favoritismos, preconceito e assédio.
Secção C. Confidencialidade/Privacidade
Como membro da ACTO, Eu:
Tenho acordos claros entre a organização de formação em coaching e os formandos sobre as situações passíveis de quebra da confidencialidade, como:
Atividade ilegal
Por ordem válida do tribunal, requerido por lei
Risco de perigo iminente ou provável para o próprio ou outros
Asseguro o anonimato quando partilho exemplos reais em formação.
Mantenho, armazeno e elimino quaisquer registos, incluindo ficheiros eletrónicos e comunicações, de uma forma que promova a confidencialidade, segurança e privacidade em concordância com as leis e acordos aplicáveis.
Mantenho a confidencialidade dos registos dos formandos após a conclusão da sua formação em coaching, de acordo com a legislação aplicável, revelando essa informação apenas com a autorização escrita dos formandos ou como requerido por lei. Excepções: registos individuais de concretização dos cursos para fins de verificação das organizações profissionais. Programas e certificações são considerados públicos, pelo que poderão ser partilhados com aqueles que os verificam.
Asseguro o anonimato da informação pessoal dos formandos que possa ser revelada fora dos registos dos formandos, incluindo mas não limitado a conversas com um formador, supervisor ou mentor, participação em discussões em aula, supervisão em grupo ou mentoring, ou participação como cliente ou coach numa demonstração de coaching, role play ou sessão prática.
Tenho um acordo claro relativamente à informação dos alunos e sobre as gravações que vão ser transmitidas e/ou divulgadas.
Secção D. Conflitos de Interesse
Como membro da ACTO, Eu:
Revelo abertamente qualquer conflito e recuso quando tomo conhecimento de um conflito ou potencial conflito de interesses.
Atuo com transparência e revelo todos os conflitos de interesse atuais ou potenciais quando dizem respeito a decisões relativamente a mim ou à minha organização
Revelo os pagamentos relativos a recomendações a todas as partes envolvidas ou afetadas.
Proporciono serviços de confiança e imparciais quando ensino, no mentoring e no coaching ou supervisão, independentemente da forma ou montante de compensação ou da compra de serviços adicionais.
Defendo e promovo o uso de normas escritas sobre conflitos de interesse na minha organização.
Mantenho a integridade da minha situação em termos de ganho pessoal, material ou financeiro, e asseguro uma postura positiva e apropriada.
Esforço-me por avaliar a prestação dos meus alunos o melhor que me é possível, livre de quaisquer enviesamentos positivos ou negativos, que possam, tanto quanto é meu conhecimento, impactar na sua capacidade de atingir os seus próprios resultados.
Secção E. Desenvolvimento Contínuo
Como membro da ACTO, Eu:
Ensino coaching e ética em coaching de uma forma que permita aos alunos tomar consciência e saber como atuar perante desafios éticos.
Comprometo-me com aprendizagem contínua e ética como coach e formador de coaches.