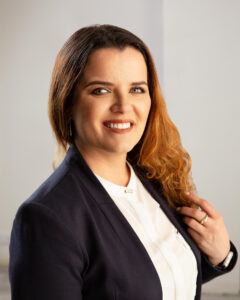 JOHANA ALVARADO, PCC  www.gidi.coach    info@gidi.coach                                                                                                                                                     
I am Johana Alvarado, I am from Costa Rica and I train in Spanish (entreno en idioma Español).
My life purpose is "to be a cheerful, exponential, daring human being, who learns at the University of life and with love I aspire to positively impact those around me."
I was trained and graduated in Clinical Psychology, Master in Psych Pedagogy, Master in Neuro Linguistic Programming, Duel Management specialist. I am certified in High Impact Communication and have many years of experience as Executive and Team Coach I am founding partner of the Costa Rica chapter of the International Coaching Federation and I own PCC credentials and am in the process to obtain the MCC for the same federation. I am certified byt he INCAE Business School and the Success Unlimited Network (SUN). With more than 15 years of experience in the field, I aim to contribute in a determined manner by sharing a broad and deep vision of life, in the present as well in the future, as I did in the past. 15 years ago, My experience includes workshops, webinars, seminars, talks, conferences, face-to-face or online meetings, in Costa Rica, Central America, United States and South America, radio programs, podcasts, television programs, through government organizations and a wide range of private companies. I am constantly developing tools that complement my work with the different companies and people I work with. I integrate each lesson I learn from my experience into my Coaching education, to share with my students and learn from real experience.
Note: In 2020, Johana was honored to receive the Young Leaders Award from ICF for a stellar career and contributions to the profession of coaching.
En Español
Estamos orgullosos de nuestros coaches certificados y con credenciales. En todas las comunicaciones y comportamientos, puede esperar que los capacitadores de SUN se comprometan y se adhieran a los estándares éticos de coaching de la Federación Internacional de Coaching (ICF) y a los estándares éticos de capacitación de coaches de la Asociación de Organizaciones de Formación de Coaches (ACTO).
Descubra más sobre los Entrenadores de SUN en Roles de Liderazgo en Coaching que proporcionan liderazgo para la evolución de la profesión de coaching.
Nuestros Entrenadores, Maestros Entrenadores de Coaches, Entrenadores de Coaches y Entrenadores de Coaches Asociados (ACT) ofrecen programas de capacitación de coaches personalizados de máxima calidad, certificaciones de coaching acreditadas, formación continua, tutoría de coaches y coaching. Cada uno,de su manera, proporciona liderazgo para la evolución de la profesión del coaching.
Todos los Entrenadores de SUN tienen al menos una credencial PCC (Professional Certified Coach) y casi todos tienen una MCC (Master Certified Coach), credenciales reconocidas internacionalmente. Todos los Maestros Entrenadores de Coaches SUN tienen un MCC.
Ofrecemos formación en 5 idiomas en 5 continentes y ofrecemos opciones de formación en persona, por teléfono y a distancia.
Filosofía
Capacitar, orientar y evaluar formalmente a los estudiantes utilizando un enfoque de coaching.
Mantener un negocio de coaching activo.
Tener un fuerte compromiso con la auto-mejora continua y la evolución de la profesión de coaching.
Respetar la ética y las normas de la profesión (véase más abajo el Código de Ética del Entrenador de la ACTO).
Apreciar la retroalimentación y proporcionar mecanismos de evaluación para fines de valoración.
Valorar el servicio.
Formar desde una perspectiva holística, haciendo coaching desde y para la esencia, con conciencia espiritual.